Andersen window repair
Andersen window repair from the United Windows Repair company means that you always receive the best prices for fast and high-quality repair of Andersen windows.
Andersen Window Repair in Chicago by United Windows Repair
United Windows Repair is a family-held company with more than 3 years of experience in the window sphere in Chicago. The skilled professionals who work at this company can repair the windows of any brand, including doing Andersen window repair. 
You can order different services here, such as repair, replacement, installation, including free estimation. Also, we have our own warehouse where we store such elements as Andersen sliding glass doors, Andersen casement window parts, and  Andersen double hung window parts.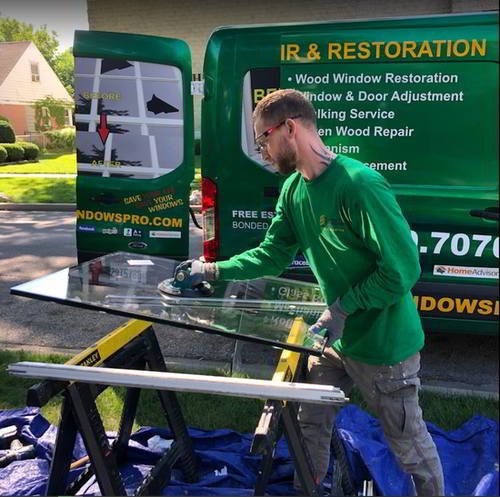 The services you can order:
Andersen window crank repair;
Glass replacement for doors;
Andersen window repair broken glass;
Insulated glass replacement;
Andersen window screen repair;
Double pane glass replacement;
Andersen storm door replacement glass.
Before/after
That's how the broken Andersen windows of our clients looked before and after we repaired them. Look at the photos below and compare.
Why do customers trust us?
Reasonable and transparent prices
You can order any service from our company at an affordable price. In addition, you get free measuring and price estimation.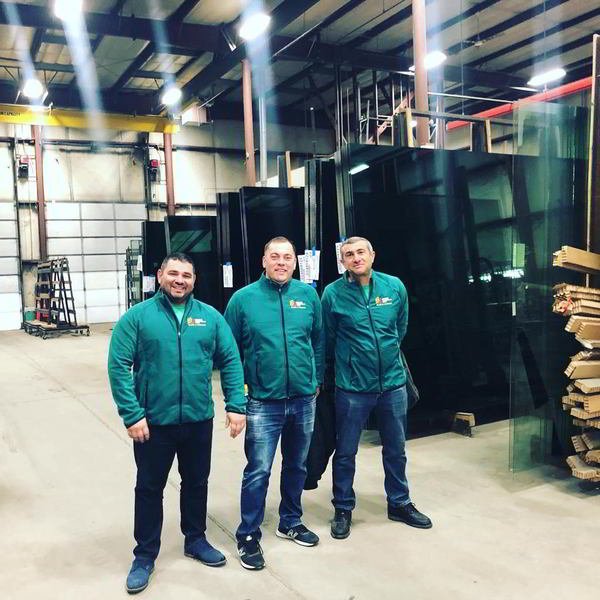 Professional staff
Our employees were all specifically trained to repair all famous window brands. There is nothing impossible for them with such extensive experience. Also, all our workers are bonded and insured.
Usage of a modern set of tools 
The professional workers of our company have a set of durable and reliable tools and high-quality Andersen window repair parts. That's one of the critical factors for excellently performing the services.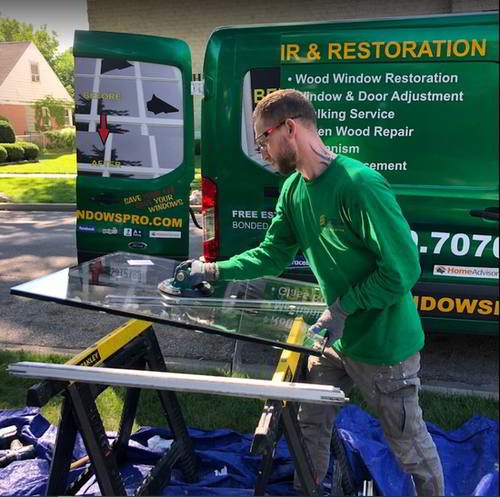 Your comfort is our highest priority. Despite such a vast experience, our staff still keeps improving the techniques of repair and approaches to the performance of different window service works.
Experience all the benefits of our company! Fill in the form below, and we will repair your Andersen window.
The order process of Andersen window repair
Contact us
Leave a request, and we will call you back. Or contact us directly
Get a quote
The workers arrive and do the free estimation and necessary measurements of your Andersen window.
We perform replacement works
After assessment and measures, we determine the cause of the breakage of your Andersen window, order Andersen windows replacement parts, and do Andersen window repair.
Enjoy
You accept the work and leave feedback on the job done.
Do you still wonder whether you need Andersen window repair?
Our managers are qualified specialists who understand all the nuances of our services and know the features of all types of service work. Also, they are well versed in the variety of window brands and the nuances of their repair.
We will gladly provide you with consultation if you are interested in the following questions:
What type of double glazing is best for your window?

Which window manufacturer or brand should you choose?

What window sill to select for a new window if you plan to do

Andersen window sill replacement

?

What

parts for Andersen windows do you need to replace?

Do I need to order

Andersen window repair service

or replacement service?
 Don't hesitate to get in touch with our customer service, even with the most challenging questions! You will receive qualified answers to any questions you may have.
Request a callback, and we will provide a detailed consultation on all types of brands we repair and our services.
Why are Andersen windows so popular among our customers? 
Andersen Corporation is an international window and door manufacturing enterprise with approximately 12,000 employees at more than 30 company-owned manufacturing and logistics centers and retail outlets. Andersen is a privately held company headquartered in Bayport, Minnesota. Andersen Windows has been in business for over 100 years and is one of the window sector's best and most trusted manufacturers.
The main advantages of Andersen windows
Insulating properties of Fibrex material
Andersen windows are made of a unique Fibrex material, a 40 percent wood fiber blend, and 60 percent thermoplastic polymer by weight.
The representatives of Andersen company say that Fibrex has excellent thermal insulation properties compared to aluminum window frames which conduct heat and cold.
But the best comparison to Fibrex is vinyl. Internal flyers provided to Andersen salesmen even claim that Fibrex's insulating properties can be compared to pines or vinyl (taken from "Fibrex: Engineered for Performance, 2007")
Heat resistance
Why are Andersen Windows even better than vinyl ones? One of the problems with vinyl windows, especially dark-colored vinyl, is sagging and other deflection when exposed to heat.
Andersen company claims that Fibrex is better protected from thermal distortion than vinyl.
Fibrex thermal distortion threshold is 173 F, compared to vinyl's 163 F. 
Wood as an eco filler
This advantage leads to two benefits. First of all, wood is an ecological material that rarely causes any allergies. Moreover, wood filler is cheaper than other ones. So the prices for Andersen windows are lower than the prices for some other good window brands.
Frequently asked questions
Which brands of windows are the best?
Andersen Windows 

Pella Windows 

Marvin Windows

Milgard Windows

Lowen Windows

Simonton Windows.
What are Anderson windows made of?
Andersen company has engineered a material that's twice as strong as vinyl, performs better in extreme temperatures, and delivers a look that won't fade, peel, blister, or flake. They call it the Fibrex material. It consists of recycled wood fiber and a thermoplastic polymer that is fused and are unique in window spheres.
What are the main advantages of Andersen windows and Andersen window repair?
The first advantage is lower thermal expansion. Since pine has a low coefficient of thermal expansion, these fibers help control Fibrex's overall rate of increase. Thus, the vinyl expands more than twice as fast (4.0) compared to Fibrex (1.6).
The second advantage is that Andersen windows have more excellent permeability than vinyl. Andersen company representatives claim that Fibrex is twice as strong as vinyl but only in compressive strength. The benefit to you is not so much that you get a more robust window but that the window frame is thinner, resulting in more glazing. And more glazing means more light.
Why are Andersen windows based on Fibrex considered one of the most environmentally friendly windows?
Andersen Fibrex consists not of self-serving but is self-interest that benefits the environment.
Any end product that uses waste can be considered environmentally friendly. Reusing Andersen's wood fibers is especially beneficial because not all of it is pure wood dust. Most of the threads contain adhesives, paint, primer, antifungal agents, and a wide variety of other contaminants.
So storing wood dust in landfills or incinerators means keeping these pollutants out of the ground and the atmosphere.
Where is the model number on the Andersen window?
Andersen company engraved the Andersen logo on the window glass. You can find the logo in the inner right bottom corner of the window.
What are the different series of Andersen windows?
Like the 200 series, the 400 series has a wood interior and vinyl exterior. The difference is that the 400 series offers three additional types of windows: canopy, sash, and niches/arches.
How much does an Andersen window repair extension cost?
The price depends on the local dealer. Independent companies sell and install them, not Andersen company itself so prices will vary. We usually see them offered in the range of $1,000 per window or more, including installation.
How do I know whether my window is single or double-pane?
The easiest way to tell whether you have a single-chamber window is to look under the top sash outside the window. Double-pane windows have a small space between the sash and the joint to allow it to slide up and down. Sometimes this space is covered up or painted over, making it difficult to notice. It is important to know the number of chambers in your window if you plan to order Andersen window sash cord repair.
What is a casement window made of?
Double-hinged windows consist of several parts. They include the window frame into which the window is installed. The casing is a molding that covers the area between the frame and the wall in which it is installed. The sash is the movable part of the window that holds the glass panels. Knowing the components of the casement window, it's easier to do the proper Andersen casement window repair and Andersen window replacement sash.
How long will the windows in the house last?
The average service life of Andersen residential windows is 15 to 20 years. Window products in good condition can last over 20 years. Still, once your windows are almost two decades old, it's time to consider replacing them or at least ordering Andersen window repair.
Is Andersen window crank replacement and window replacement in general worth it?
Replacing windows is a bit of a valuable investment. But overall, the cost of replacing windows is worth the money you spend — you'll recoup 70 to 80 percent of your cost of the market value of your home. So if, for example, the cost of replacing your window is $400, you can expect it to increase the value of your home by $280 to $320.
We gained the trust of our customers for a good reason!
only professional servicemen;
we know how to do Foggy Glass Repair Chicago, so you don't need to replace them;
100% satisfaction rate;
reasonable prices;
quick response to the quotes;
on-site free estimation of the price;
we perform all works with diligence.